I have given myself 17 minutes to write this post - start to finish!
So, let's see if I can do it. Shall we???
Joining up with
miscellaney monday
at lowercase letters today and the idea is to just write and put it out there.....here goes......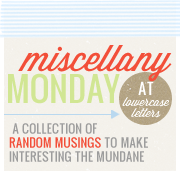 I had the best intentions at working on an Autumn craft project this weekend. When I left the house for the office on Friday, I thought I would whip out an afternoon of work and return to get started. Alas, the phone rang at work and I ended up working until 7:30 (instead of 4:30). To top it all off, I still had to make a run to Target after getting home and feeding the dogs (who thought they had been abandoned) in order to get a gift for my granddaughter's birthday on Saturday afternoon. I had to go Friday evening because I had scheduled another appointment with the couple I met on Friday afternoon to look at a couple of more houses the next morning. It made a for a long day indeed. And, I had to get up early the next morning to get back out and show houses for a few hours......
Ansleigh's party on Saturday afternoon was a fun outing. My daughter did an at-home party, princess themed, and had a great mix of Ansleigh's friends, family friends, kids and adults. After unwinding from the party, Eddie Dale and I headed to one of our favorite diners and enjoyed a dinner of burgers and fried pickles. (Hey, don't knock it til you've tried them!!!)
The Birthday Princess - Ansleigh - turns 6!!!
Sunday was a blur. With the husband working, I was all over the housecleaning. Went out to start up the washer and all it would do was agitate with a spurt of water here and there. It's like the timing board is out and it is stuck in the middle of the wash cycle, without ever filling! I was able to get it to spin out, but had to truck the load of soapy wet towels to the laundromat and fight the weekend crowd early in the afternoon. Ugh! Follow that up with a trip to the zoo, I mean grocery store. But, I had the energy left to come home and whip up a big pot of hamburger stew and a skillet of cornbread. So, at least we ate well!
A return to the office was in order today - if for no other reason than to recover from the weekend! And I have yet to start that little project, although my front porch is begging for me to get it done.....
And, so, there you go.....I ran one minute over! And that was because I decided to e-mail a photo of the Birthday Girl from my phone and insert it in the blog. Otherwise, I would have been right on the money!!!
Thanks for stopping by the porch today.....posts are not always this random, but sometimes it's fun to just let 'er rip!