Preparing the heart for Christmas.....
Does the world really know how to adequately prepare for the true blessing of Christmas, when we celebrate the birth of our Messiah? Judging by commercials and advertisements, I think not. For many, this sacred holiday has become the height of commercialism. Rushing around, shopping and overspending, stressing over getting everything "just so" has become the norm - but, it isn't truly reflective of the spirit of the season.
How exactly does one prepare the heart for Christmas?
Emptying the heart of the ways of the world and seeking the blessing of the Divine, the Christ Child, the King of all kings.....prepares the heart for Christmas. For only by emptying the heart is there room for Him to enter in.
Not that baking cookies or giving gifts is a bad thing. That's not at all what I am saying. Surely, it is a way to show our love to people we care about. It's not wrong to decorate our homes, light our trees and candles, fill the air with the sounds and smells associated with this time of year. The error is in focusing too much on the "trappings" of the holiday and losing sight of the true meaning of Christmas. The secret is in finding balance.....
This year, I strive to let go of the expectations of the world; cease the struggle with perfection and seek the Perfect One. I am
grateful
that God has placed this on my heart and whispered in my ear -
"Prepare your heart for me."
Take the time to be still and meditate on the wonder that Christ entered the world through the womb of a humble maiden. The story of the Nativity is powerful in its complex simplicity. It's a good place to start when searching for the true spirit of Christmas.
Today, I am linking with Ann Voskamp's "A Holy Experience" for "Walk with Him Wednesdays". If you are looking for insight on preparing your heart for CHRISTmas, I encourage you to visit and be inspired.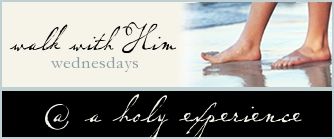 Be blessed, sweet Friends....
Jane